Update to this story at 20 Feb 2018: I've been debugging the problem together with Apple and I feel like we are closing in on a solution. My current guess is that Finder indexing needs a lot more time on High Sierra than on Sierra clients.
Update to this story at 6 July 2018: I've been asked by Apple to verify and can confirm that OSX Mojave Beta no longer has this problem.
Dear Tim,
We're into video archival here, and we like what we do.
For about 30 years, we've been digitizing, storing and collecting Video-Based Artworks, documentaries and short films for preservation to our future generations.
Beautiful stuff. Sometimes edgy, sometimes important, sometimes weird…
We're talking artists like Vito Acconci, Nam June Paik, Wolf Vostell, Lawrence Weiner, Jef Cornelis, Johan Grimonprez, Steve Reinke, Walid Ra'ad, Jordi Colomer, Beatrice Gibson, Hans Op de Beeck, Emily Vey Duke & Cooper Battersby, Julia Meltzer & David Thorne, Manon de Boer and many others.
Historically, we've used a lot of Apple OSX products, even invested in Xserve RAID's and Final Cut Servers at a time ;-)
And I have one particular server that we have loved for a long time.
It's the one that holds our video files.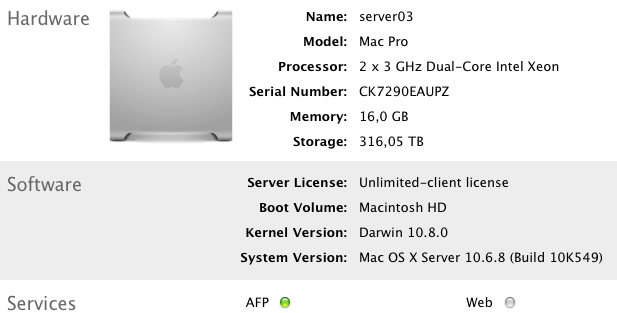 It sits safely in a small server room.
And it's back-upped to a large dual LTO Library + Off-site backup in a Bank Vault!
And it has a bunch of 10G Ethernet interfaces!
And it has some ATTO ExpressSAS interfaces to connect it to 7 RAID6 arrays!
And we use Apple's AFP (Apple Filing Protocol), easily reaching just over 100MB/s transfer speeds on plain CAT6 cables.
And it doesn't even sweat under load!
We love it! It's lightweight and all our video editors, annotators, archive ingest people and media library visitors can use it simultaneously without much hassle.
But we use AFP…
And since our OSX clients in the office, media library and editing studios started upgrading to High Sierra, they can't search for files on these shares anymore.
Let that sink in. They. can't. search. files. anymore.
I admit, it took me a while to even consider the clients to be the problem.
Surely Apple wouldn't break AFP support on it's clients?
Surely Apple knows some institutes still use AFP servers, right?
So thank you, Apple, for your advice when I called and opened a support ticket for this issue.
"Why don't you upgrade the server, sir?"
Because you don't sell any hardware that holds ATTO cards and 10G Ethernet cards any more.
"Why don't you reformat the drives to AFPS?"
You're asking me to reformat 300TB?
"Can you use SMB filesharing?"
Yes, but it's only half as fast. And searching doesn't work either (https://discussions.apple.com/thread/8103236)"
"I see, let me connect you to my colleague"
…
The colleague:
"I advise you to hold off the upgrades to High Sierra"
You're telling me NOT to upgrade?
"Yes"
…
By mail:
"As discussed over the phone, i will informed the engineers that we have received your call and that you are experiencing the same kind issue that has already been reported to us."
…
"I have yet to receive any updates on this case and the progress that it's made."
…
"The latest update that i have available is: No available workarounds at the moment"
I switched to Mac about 10 years ago and loved how BSD-like it was.
Hardware was solid and things just worked.
OSX Server was easy and pretty solid.
Since then, I've seen a steady decline in quality and connectivity.
At a time, I ordered a batch of 6 iMacs for our MediaLibrary for a total of 3 times.
The oldest 6 from 2007 still run fine (iMac7,1), the second batch had one that broke down (iMac10,1) and the last batch has only 3 left standing (iMac11,2).
Nowadays, I purchase iMac18,2's to realize it has no thunderbolt2 but the black bin MacPro's in our studios have 6 of them! Go Figure.
As for software, Apple's Final Cut was a household name before in this sector, now people (myself included) prefer Adobe Premiere since it "feels more like the original Final Cut"
In 2010, an artist called Herman Asselberghs made a video wherein one sees the meticulous dissection of a brand new MacBook Pro.
I used to watch this work in horror when I needed to quality control it in our video archive, it felt really bad seeing this beautiful piece a machinery being slowly disassembled.
Nowadays, I enjoy watching it.
Anyway,
I'm writing this on a Mac Pro (Mid 2010) and I still love it.
Please let me keep it.
Please don't break anything anymore.
Please fix AFP searching in High Sierra as well.
With kindest regards,
Bram